Great Circle Shipping Corporation, domiciled in Pensacola, Florida, is a "Chartering And Logistics Management" firm specializing in the transportation of dry bulk, breakbulk and project cargoes worldwide.
We manage our clients' cargoes from "origin to ultimate destination," or any part thereof, negotiating and managing their required services such as the following:
Our post fixture operations team with over 75 years of combined experience will keep you closely advised on every aspect of your shipment. They will manage the daily traffic so you can concentrate on your core business and not on transportation related issues.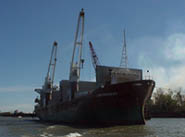 The smooth and timely flow of raw materials in any industry is largely dependent upon whom is managing it and how they manage it. We truly enjoy what we do and we look forward to making it happen, exceeding your expectations. Our clients have entrusted us with their millions of dollars in cargoes that keep their billion dollar manufacturing plants in operation and we take this privilege very seriously and manage our affairs accordingly. We surround ourselves with others who feel the same way and we all strive to improve on what we did the day before.
We are truly available 24 hrs a day, 365 days a year. We understand that a delay in delivering material could have devastating financial results. We look ahead and plan around potential problems, and when one does occur, we quickly determine the best solution and keep the shipment moving.
Are our rates the lowest?? Maybe not. But let's face it, lowest is usually never best.

The Safe, Efficient and Economical management of your business is best and that's what we do.
Company History:
Great Circle Shipping Corporation was formed in March of 1997 in New York. We saw a need to put multi-modal transportation services for the dry bulk and break bulk trades under one roof. The concept of a truly "one call" shop to find a ship, barge, truck, railcar, warehouse or stevedore is the most efficient way to obtain transportation services.

Our name is derived from a form of navigation – "great circle sailing," which is simply the shortest distance between two points on the surface of the earth.